Teens + Tweens Decorating Guide
$

9.95
On sale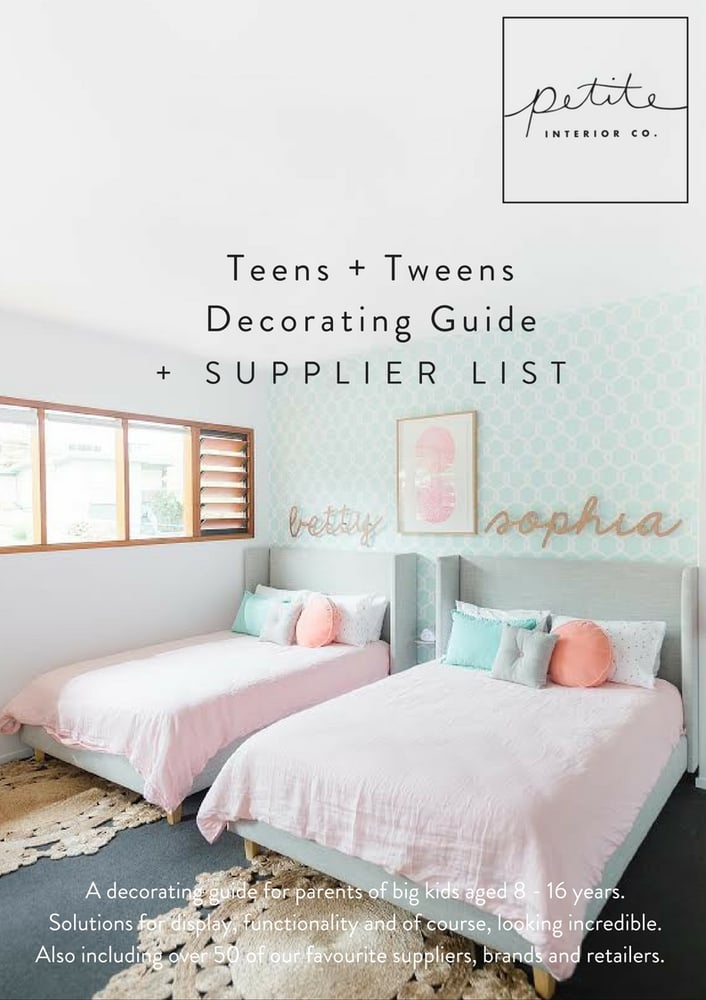 This guide focuses on creating a space for your teen or tween that you will both love. We tackle the common decorating issues that can arise when creating spaces for this age group, such as sleepovers, relaxation zones and study areas. Bel Kurtz will step you through the process from design plan to mood boards and the best layout to maximise space for your child and all their friends.
This guide also goes into more detail about bed styling, shelf styling and catering towards a more mature palette.
We're always asked where we get all the beautiful items we use in our children's rooms and we're so thrilled to share over 50 of our favourite stores, brands and businesses in the back of the guide. International shipping is available from most stores listed!
We like to think of it as the little black book of children's interiors!
Please note that this is an e-product, a physical book will not be sent.
Please ensure that you use a Paypal address with an email address that you currently have access to and plan to still access for the next 12 months. We are unable to change addresses in our system.
After downloading your book, please SAVE to either your device or your hard drive as our system only allows you to download the e-book THREE times. Please email us if you have any issues hello@petiteinteriorco.com.au and we will respond within 24 hours (Monday to Friday).
Due to the digital nature of this product, no refunds will be given.
NOT FOR RESALE: All digital products, ebooks, downloads, resource material, videos and online content are subject to copyright protection. Each digital product, ebook, PDF, download, resource material, video and online content sold is licensed to a single user only. Customers are not allowed to copy, distribute, share and/or transfer the products they purchased to any third party or person. Fines of up to $10,000 may apply to persons found to be infringing on our copyright policy. In some cases, Petite Interior Co. Australia PTY. LTD. may encrypt, force password and/or stamp license details (including customer name, address etc) on it's digital products to ensure additional safety.